As a global player, the family business MEILLER has been writing a success story since 1850. For the elevator doors industry, MEILLER was looking for a reliable and automated volume measurement and weight measurement with integrated photo documentation of the pallets in the outgoing goods department.
The company LASE Industrielle Lasertechnik GmbH from Wesel has exactly the solution for this.
The product series LaseAFM (automatic and multidimensional freight measurement) is developed to give manufacturing companies, forwarding agents, freight logistics companies and freight receivers a highly accurate measurement (length, width, height, volume and weight) and to document the condition of the freight.

The advantages are obvious. Automated means:
– No false declaration of the cargo
– Reduced effort and time saving in the collection of freight-specific data
– no transmission errors (no errors due to manual entry into the system)
– always reproducible results (not depending on the measuring staff)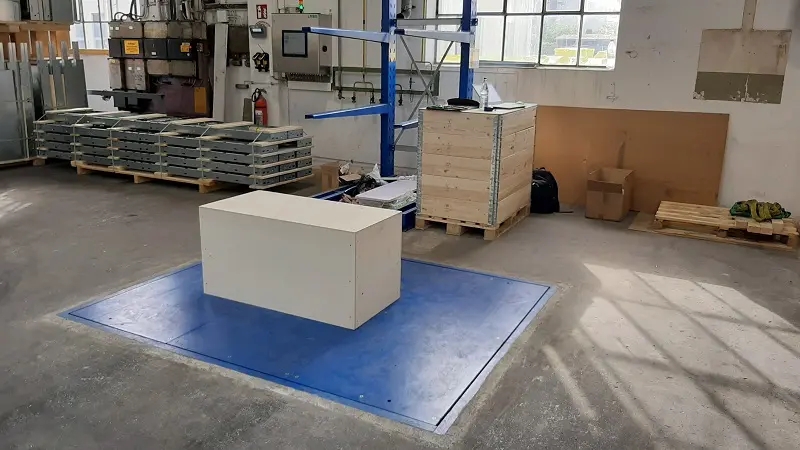 Now the project at MEILLER was more individual, as the freight dimensions are much larger than the dimensions of a standard pallet. Freights with a max. dimension of 5m x 2m x 2.5m (LxWxH) should be measured. Not a problem for LASE. We used the warehouse construction and attached the 3D laser scanners to the warehouse cross beams. In addition, a scale with a special dimension of 2.5m x 2m and a measuring range of 6t was delivered, which was embedded in the hall floor. Two cameras installed next to the laser scanners provided high-resolution images. With this project LASE could prove again that their strong project background makes individual solutions possible. "Standard is good – but the requirements and wishes of our customers are our focus".